I would like to say that this is what my kids look like all the time.
So sweet....so innocent....so loving....
Unfortunately, this is the reality most of the time....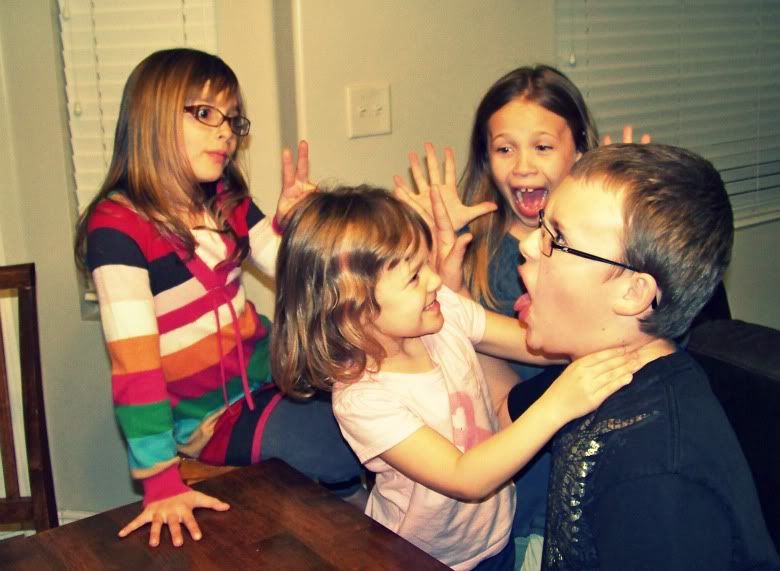 Yes, it's true. We are a completely normal family.
We fight,
we yell,
we hug,
we makeup.
That vicious circle of family life.
In our Sunday School lesson yesterday, we were discussing some of 2 Nephi, Chapter 2 to be exact and something struck me when we were reading verse 23.
(Talking about Adam and Eve here...)
"And they would have had no children; wherefore they would have remained in a state of innocence,

having no joy

, for they

knew no misery

; doing no good, for they knew no sin."

Does anyone else see the connection here?
No children= no joy AND no misery :)

My children are my greatest joy and my greatest misery.
You cannot have one without the other. If we had no misery, we would truly not be able to enjoy those great moments of joy in our lives and our lives would not be full.

My greatest joy in life is to be a mother. I have always loved being a mother (most days), but six months ago, I did not realize just how much I loved being a mother....until I was faced with the possibility of having to leave them.

It's been 6 months since our lives were turned upside down and as hard as it has been, I wouldn't change those past 6 months. Yes, even the chemo.
I would not change it because it has made me a better mother~a better person.
I am far from perfect and I still continue to yell at my children and lose patience with them, but I truly appreciate my role as a mother on a much deeper level.
So I will take the arguing, the fighting, the "she looked at me THAT way" moments, because along with those moments I get these...
"Mommy, you are the BEST mommy ever"
"I love you Mom"
"Mommy, can I rub your head? It's so soft!" :)
Being a mom is awesome.
What are your thoughts?