I think I have finally come around to join the land of the living again!
The weekend after chemo is always the hardest, so why not throw in an ice skating competition and a trip to the symphony? Once again, the word CRAZY comes to mind. But we are really trying to keep our lives as "normal" as we possibly can for our kids' sake.
So to recap...last chemo on Wednesday the 1st, AWESOME party followed that.
Thursday was preschool and time with the fam.
Friday was the Winter Games Competition for Emma and a trip to the symphony with Josh (part of his Christmas present).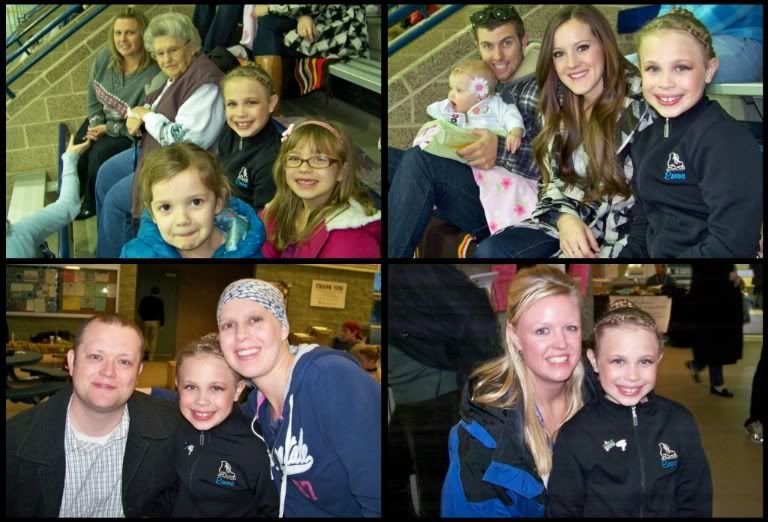 Here we all are at the Winter Games. I am so proud of my little Emma Kay. She is now skating at the Preliminary level and has to land some double jumps in her program. Don't ask me which jumps are the double ones- I still can't tell the difference. I do know which one is her axel, but that's about it. She was really nervous about this competition because there were so many girls in her group. Usually she skates with about 5-6 girls. This time there were 10. Add that to the fact that it's the first time she has competed at this level= one nervous little girl (and momma). But she did so well! She set out to skate her best and she did just that. Had one little fall on one of her jumps, but as always, she popped right back up and finished on time. She finished in 6th place and we couldn't have been happier.
As always, thank you so much to the amazing Kelly, Emma's coach. We just think she is the greatest coach ever. Emma has skated with her since she started 5 years ago and we just love her so much. :)

Fortunately the stars were all aligned and the time schedule worked out so that we could watch Emma skate and be to the symphony on time. We gave Josh tickets to the symphony back at Christmas and didn't realize at the time that it would be the same weekend as Winter Games and a chemo treatment.

Look at this handsome devil. Who's kid is he anyway and how did he get so good lookin'?
He started playing the cello last year and fell in love with it. He started private lessons this summer and just took off. He is the first chair cellist in the school's orchestra, which is rare for a 7th grader. Could not be more proud of the kid. (Ok, I would be a little more proud if we could get a handle on the whole "turning your homework in on time" issue but I digress...)
We were excited to take him to the symphony on this particular night because they were featuring a cellist from Germany and playing Beethoven's 5th symphony.
It really was a spectacular night...I just wish I could remember more of it. Unfortunately, I started to lose consciousness about the time they started playing the 5th symphony and I was in and out. Mark and Josh's shoulders make good pillows. ;)
But, I made it through the weekend...barely. Saturday and Sunday were a bit rough, but I've been worse for sure. I am just glad to be on the other side of it and the thought of not having to go get knocked down again in 2 weeks is beyond thrilling.
I am starting to feel a little better with each passing day. It's going to be a while still before I am back to "normal", but to be finished with chemo is just....well, words cannot describe how wonderful I feel about that. :)