**CAUTION- Photo and video heavy post ahead! :)**
What a fantastic, fun-filled birthday weekend!
My cute little Emma Lemma Ding Dong entered double digits! It's hard to believe that just a short 10 years ago, I became the mommy of a beautiful baby girl. I was so excited to have a girl. We had had a lot of fun with Josh, but I was ready for some pink in my life. We did not know if we were having a boy or a girl until the moment she was born and I wouldn't have had it any other way. I did find it interesting though, that throughout the entire pregnancy, the name Emma was first and foremost on my mind. I could not think of a single boy name that I liked.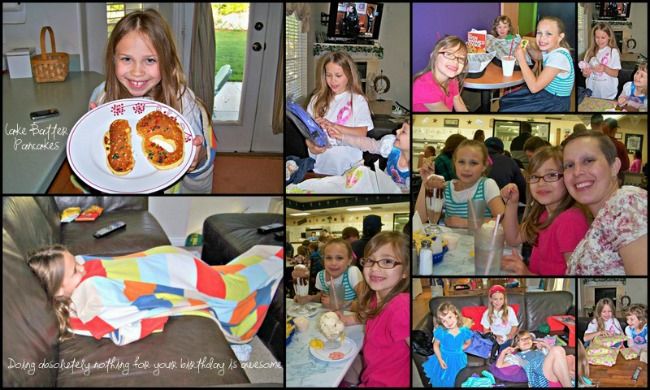 I love having birthdays fall on the weekend. Makes the day a little more special I think. We woke up to the usual balloon bunch and presents at the table. I decided to try a Pinterest recipe and make Cake Batter Pancakes. They were definitely yummy- probably because they were loaded with sugar! Oh well, it's a special occasion. She opened her presents and then I let her off the hook for her usual Saturday chores. So what did she do? Parked her booty on the couch and watched a movie. Abbie and Ellie decided that for their gift to Emma, they would be her maids for the morning. :)
Just a few quick things about Emma...
*She has recently taken up crocheting and is off and running with it! I can't believe how quickly she has picked it up. She has made quite a few amazing things. She got a lot of crochet items for her birthday.
*She is a very good student and LOVES to obey rules. I think I will like that when she becomes a teenager.
*She is a good friend and tries really hard to make sure that everyone is getting along and having a good time.
*She loves ice skating (still) and would spend almost every waking moment at the rink if she could.
The following video is a clip of Abbie and Ellie being Baby Birds. I thought they were very clever. They attached grocery bags to their arms and rode the small bikes to pretend like they were flying. I love it when they use their imaginations. Cracks...me....up...
There is also a little bit of Emma opening her presents...
After presents, "baby birds", and fixing a little sprinkler problem (yes, we woke up Friday morning to a small little basement flooding but that's all I want to say about that. Moving on...), we went to Abbie's Piano Recital. Abbie has been taking a music class called
"Let's Play Music"
for 3 years now. This is her final year of the program and I am so amazed at how much she has learned in the past 3 years. She really loves music and wants to continue the piano and learn to play the violin.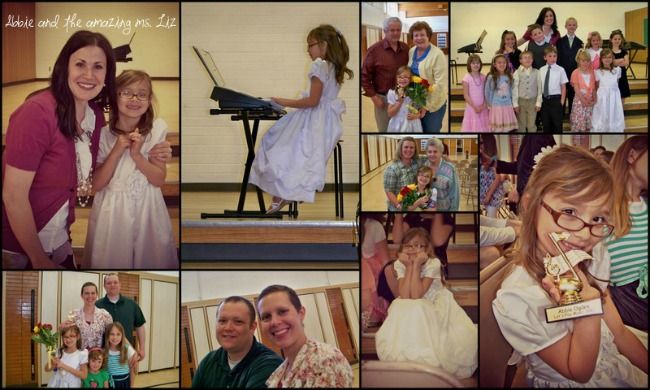 The best part about this recital is that all of the kids wrote their own song to perform. It was so fun to listen to all of the kids. They were amazing and it's all due to one incredible teacher, Ms. Liz. We love Ms. Liz...:)
Here is a video of some recital highlights...
After Abbie's recital, we headed home for a little breather and then we were off again. This time it was to Quizno's (Emma's choice for her birthday dinner) and then to Emma's Spring Show. Emma has been so excited for this show because...
(a) it happened to be on her birthday and
(b) she was finally able to perform a solo.
The show actually ran Friday and Saturday night and I just have to give a huge thank you to all of Emma's friends and our family who came to support her. Her wonderful and amazing teacher, Mr. O, also came. She was so happy to see everyone there. It made her birthday weekend.
She performed in a group number which was "I Love Rock and Roll". I wish that I could have shown her facial expressions more on the video. She was hilarious! Such a performer. Her solo is a new program she has been working on. It is to some music from the movie, Hook. She did a great job in both performances.
Here is a video that recaps both performances and the finale...
WHEW! You made it and so did we! It was a busy, busy weekend, but it was also so much fun. I am so thankful that I had the energy to enjoy it all. :)